Meghan, HRH Duchess of Sussex in Valentino Haute Couture in Morocco.  
Many moons ago, in the 80s when living next-door to designer, Alfred Sung on Cabbagetown's Amelia Street, I was more obsessed with fashion than I now am.  Back then, lots of friends used to bemoan the paucity of black models appearing on catwalks of major house, in particular, Armani.  
In this 1992 Fashion Television feature portrait by Jeanne Beker, the thinking model, Veronica Webb makes passing reference to the paucity of black models in ad campaigns and even walking the catwalks of some houses.  
This slideshow requires JavaScript.
Then along came a picture-perfect day in Berkshire when Sol shone with rays that sparkled as though laced with diamonds and platinum.  This phenomenal woman, this soul who had previously been Margaret Beaufort, she with an unparallelled sense of theatre, with poise, self-absorption and awareness in the space of a couple of hours proved herself a game changer.  That poise, elegance and revolutionary arrival onto the world stage got everyone to sit up and take notice.  Certainly, Pierpaolo Piccioli took notice.  He clearly thought that if Meghan, HRH Duchess of Sussex were going to favour haute couture in choosing Givenchy for the elegantly minimalist wedding gown then Maison Valentino had to step up and court the Duchess.  
Bored out of my mind, one day, I happened to be tune into a live event on Eva Chen's IG @evachen212.  It was the Spring/Summer 2019 Maison Valentino Haute Couture show and as Eva shouted and praised the models and creations as they walked, I began crying.  Never had I seen so many black models walking in a show.  Then Naomi Campbell appeared, closing the show and I was simply floored.  Never had Ms. Campbell looked more radiant when walking the catwalk.  There was so much tangible love in the air, in that room.  This was a moment like no other.  There was no denying that Piccioli was courting Meghan, HRH Duchess of Sussex with that show, not just the ubiquity of black models but the number of creations that featured a bateau neckline were clear homage to the latest duchess of the House of Windsor.  
Listen to what Naomi has to say, near the end of the video, when speaking to British Vogue Editor, Edward Enninful.  There was nothing more overwhelming that seeing the response in that salon, from Naomi crying, to the adorably eccentric Reine de Charlemagne, Céline Dion, crying her eyes out whilst sitting FROW along with Mr. Valentino himself, Valentino Garavani.  
Campbell, Naomi 22/5/1970 London, England
Michael: This fragment is a second-level mature artisan — third life thereat.  Naomi is in the caution mode with a goal of rejection.  A realist, Naomi is in the moving part of emotional centre. 
Naomi's body type is Saturn/Mercury. 
Naomi's primary chief feature is arrogance and the secondary stubbornness. 
The fragment Naomi is fifth-cast in the sixth cadence; she is a fragment of greater cadence four.  Naomi's entity is two, cadre four, greater cadre 7, pod 414. 
Naomi's essence twin is an artisan and her task companion is a sage. 
Naomi's primary needs are exchange, expression and freedom. 
There are 6 past-life associations with Arvin and 4 with Merlin. 
________________________________________________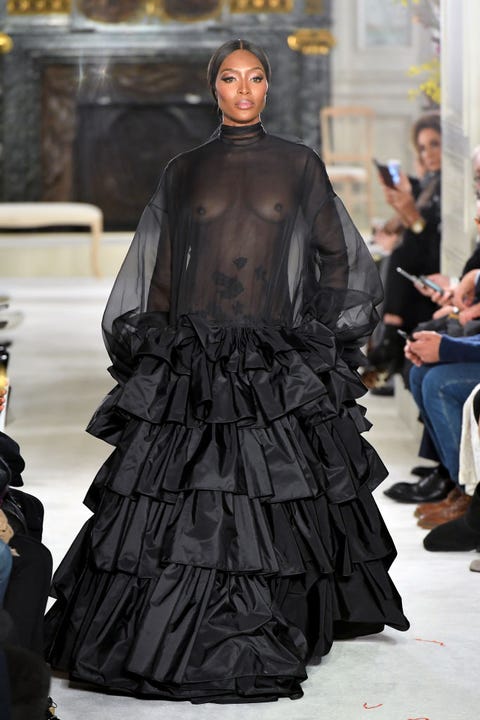 Naomi epitomises what someone in the positive pole of discrimination looks like.  Of course, she is an artisan soul, which gives her that kaleidoscopic, chameleonesque mystique.  She also happens to be an entity mate of both John Hirsch and George Hawken; this is why George was always left speechless when she appeared on television.  He was bewitched and fascinated by her, which was rare for him where adoring famous persons was concerned.  As the recent trip by TRH Duke & Duchess of Sussex to Morocco revealed, Meghan, HRH Duchess of Sussex certainly took notice of Pierpaolo Piccioli's homage to her discriminating  sense of fashion and design.  
__________________________________________________
As ever, I would be remiss if I did not take this time to state how deeply appreciative of your support all these years I am… thank you.  Here's to life.   Here's to you dreaming the most lucid of flying dreams… cause you can!  
___________________________________________________________________________
©2013-2023 Arvin da Brgha.  All Rights Reserved.